Duration: 2 days. Starts at 10am and will finish at 5pm – (1/2 hr lunch).
Sat/Sun, 9/10 December 2023
Sat/Sun, 3/4 February 2024
More 2024 dates coming soon. Join our waitlist to register your interest and stay informed of any vacancies and future dates.
Unlock the secrets of Furniture Restoration with our expert-led course and join Master Restorer, Ben Hodgetts for this 2-day Furniture Restoration intensive.
This course will provide you with the skills, knowledge and confidence to restore and revitalise a range of furniture pieces and turn them into beautiful and functional pieces once again.  You will work on your own period or modern furniture / items and learn the techniques required to bring them back to life, in an enjoyable and supportive environment.
In the process of restoring your items you can learn the techniques for repairing and replacing damaged or missing parts, how to strip and refinish furniture, including applying stains and finishes and strategies for dealing with common problems such as scratches, dents and water damage.
You can also learn the techniques for Antiquing Mirrors, Fabulous Fakes, French Polishing, Fretwork, Furniture Distressing, Gilding, Veneering, Key Making, Marquetry and *Upholstery Repairs (minor repairs only).
*During the course, we can only accommodate minor upholstery repairs. If you're uncertain about whether your project qualifies, please email/text photos for our evaluation.
You will need to bring the following basic supplies (all available from Bunnings):
1 litre of 100% Methylated Spirits

½-1 litre Raw Linseed Oil

clean cotton (lint-free) rags

a couple of glass jars with lids

Wet & Dry Sandpaper (black in colour) – available in grades 120, 240, 400 & 600.

Please bring 1 sheet of any 3 of these grades.
Please also bring a Notepad & Pen (there are no handouts).
You will finish the course knowing how to restore the items you have brought along and will be able to continue on similar projects at home using these materials.
Payment:
Full fee payment is required for all courses with your application.
Confirmation: You will receive a confirmation email of your enrolment along with a paid in full tax invoice.
Cancellation: Course places are limited. If a course has to be cancelled due to insufficient enrolments, we will notify you and issue you with a full refund or arrange a transfer to another class.
Refunds:
If you need to withdraw from a class, please notify us immediately.
For withdrawal less than 3 weeks prior to the course and where the booking cannot be refilled OR failure to attend the course – NO refunds or transfers are allowed
GST: All prices include GST
Bring along antique items, family heirlooms or contemporary projects that require rejuvenating and learn the techniques required to restore them.  Are you are looking for a project to take on?  Why not spend a few weekends travelling around op shops, second-hand stores and markets.  You may get lucky and find a forgotten gem.  You could also check out some of the these auction houses in Melbourne –  www.abbeysauctions.com.au (Burwood), www.philipsauctions.com.au (Malvern), www.leonardjoel.com.au (South Yarra) and  www.ainger.com.au (Richmond).
Why not ask family and friends if they have any items that need some TLC.  They'll love you for it!
Make sure you bring at least 4, 5 or more projects to work on to get the most out of the course.  There may be down time while waiting for something to dry and you can get started on your next project.  Its always better to have too many, than not enough!
Prior to the course, you will be asked to forward photos of your projects with any questions so Ben can respond and also advise if extra materials are required.
No previous experience required.
Ben Hodgetts
For over 30 years Ben has worked as a furniture restorer in Australia and England and conveys his wealth of experience in an engaging and informative way peppered with anecdotes and historical facts.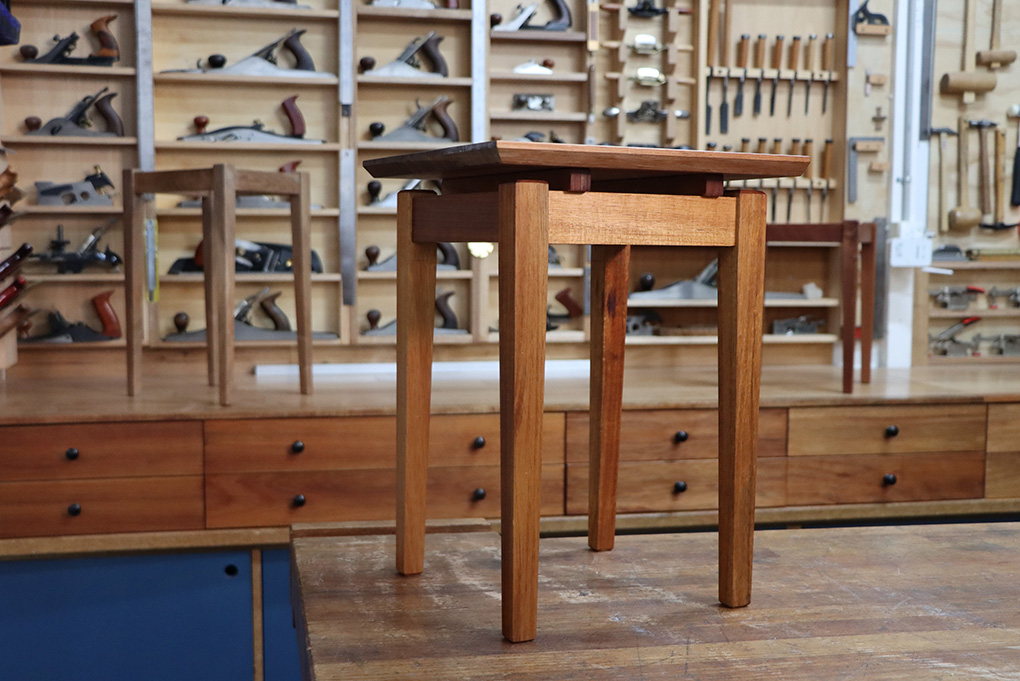 Beginner – Side Table with Rob Fabris
Join Rob Fabris for this 4-day project-based course for beginners. A practical approach to basic woodworking taught in the process of making and finishing your own side table.
Beginner – Box Making
with Remy Tramoy
In this 1-day course for beginners, Remy Tramoy will introduce you to the process of box making using traditional techniques. At the end of the day you will have this beautiful handmade box to take home.
Veneering Techniques Course with Rob Fabris (2 day)
Join Rob Fabris for this 2-day hands-on course suitable for beginners and learn the fundamentals of veneering. You will gain a comprehensive understanding of the materials, tools and techniques
Need assistance? We're here to help!