Learn more about Melbourne Woodworking Courses
About
We are Rob & Kym Fabris, a husband and wife team. We have commenced a new woodworking school offering both Weekly Classes and Short Courses. We are not new to the industry both with many years experience running a woodworking school, Rob having been the Operations Manager for 14 years and a weekly and short course tutor for many years. Kym was the Administrator for the same institution for 12 years.
It was time for a fresh start and so Melbourne Woodworking Courses was born in early 2023.
Our highly skilled and experienced tutors, whom we have been working with for many years, have come with us.
We have another business which has been in operation since 2014, Australian Premier Veneers, selling timber veneers and furniture-grade solid timber, Australia wide and overseas.
We believe our two businesses complement each other very well and we are committed to maintaining our customer satisfaction-focused approach at Melbourne Woodworking Courses, just as we do at Australian Premier Veneers.  Both businesses are conveniently located in the same building in Box Hill North.
Why we exist
Melbourne Woodworking Courses was started to fulfill a need in the market for people who want to learn and improve their woodworking skills in a supportive environment and in a hands-on manner. Our aim is to provide a comprehensive and practical learning experience so that students can take their skills to the next level whether they are beginners or more experienced. We have courses catering to all levels of experience and provide hands-on instruction and support to help everyone achieve their goals. We are a place to come and connect with like-minded individuals, further enhancing the learning experience. In essence, Melbourne Woodworking Courses are here to help people turn their passion for woodworking into a tangible skill and to foster a community of woodworkers who support each other's growth and development.
Expertise and experience
Our instructors are experts in their field, with years of hands-on experience in woodworking and a deep understanding of their craft. They bring a wealth of knowledge and skills to the table and are committed to helping students learn and grow as woodworkers.
Passion for teaching
Our instructors are not only skilled woodworkers, but they are also passionate teachers who love sharing their knowledge and expertise with others. They are patient, supportive and dedicated to helping each and every student reach their full potential
Commitment to quality
Our instructors are committed to delivering high-quality instruction that is both comprehensive and practical. They are dedicated to ensuring that students leave our courses with the skills and knowledge they need to succeed as woodworkers.
Personalised approach
Our instructors understand that everyone learns at their own pace and in their own way and they are committed to providing a personalised learning experience that takes into account each student's individual needs and goals.
Rob Fabris
In 1996 Rob completed "Designing in Wood" at the Coles School of Woodcraft. Since 1998 his workshop has been located in Box Hill where he has been making bespoke furniture and teaching woodworking courses.
Rob was the Operations Manager at the Melbourne School of Fine Woodworking for 15 years finishing up in 2022. He was also a Tutor Group Tutor and taught the very popular Woodwork for Beginners (4 day) Make your Own Occasional/Side Table short course for many years.
With his wife, Kym, they have since commenced their own woodworking course business, Melbourne Woodworking Courses.
Rob enjoys imparting his knowledge in a friendly and supportive manner. He really enjoys teaching woodworking skills and seeing the happy faces of students once they have completed their projects. He receives rave reviews after every course.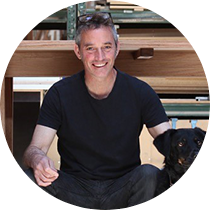 Andrew Gibbs
Andrew graduated in 1986 from RMIT with a Bachelor of Applied Science (Hons) in Landscape Architecture and practiced landscaping architecture in Melbourne, London & Kuching, Malaysia until 1996.
In 1994 he completed "Designing in Wood" at the Coles School of Woodcraft and established a furniture design and production business specialising in both interior and outdoor furniture. Andrew continues to produce one-off and limited production run pieces and commissioned designs for domestic, commercial and government clients.
Andrew has been teaching furniture design and making since 1998. He taught at Coles School of Woodcraft for 6 years, at the Melbourne School of Fine Woodworking from 2002-2022 and is now teaching at Melbourne Woodworking Courses.
Ben Hodgetts
Ben is one of Australia's most experienced restorer/conservator of quality furniture. He has over 30 years' experience in restoration/conservation of furniture and artworks for museums and private collections in England and Australia, and in tutoring on these topics.
Before coming to Australia, Ben's work included restoring and conserving furniture and artworks in Charles II's birth place [St James's Palace] in London, the private collections of Queen Victoria's and Queen Elizabeth II and the UK Ministry of Defence historic art collection.
Since moving to Australia, his clients include the Governor General of Victoria , Beleura House, the Johnston Collection at Fairhall House and the National Geographical Society of Victoria. He is a consultant/adviser on restoration and conservation to Melbourne University, Ormond College and the National Trust and has served as a member of the Australian Institute for the Conservation of Cultural Material and the Museum Accreditation Board.
Ben is committed to passing on his knowledge, skills and craft to people with all levels of ability and interests at Melbourne Woodworking Courses. He brings to this task passion, humour and patience. Ben previously taught furniture restoration at Coles School of Woodcraft and other venues.
Carl Lutz
Carl is a master craftsman, with a career spanning fifty years in commercial and bespoke furniture design and production, building construction, hand carving and restoration. He has inaugurated and judged prestigious woodworking and carving competitions in Victoria and has been a demonstrator of fine wood working techniques at annual 'Working with Wood' shows.
Carl is a highly experienced tutor. He has taught: furniture making and design at Outer Eastern Tafe; router and woodwork techniques for Carbatec; antique furniture restoration and French-polishing; furniture making and specialist project-based workshops at Melbourne School of Fine Woodworking; and fine woodworking for the Victorian Woodworker's Association.
Carl brings to students of Melbourne Woodworking Courses his deep knowledge and capabilities in all aspects of fine furniture design and making and woodworking/restoration. He tailors his approach to the needs of his students, from a basic understanding of the characteristics of different timbers and design considerations, through to the safe and effective use of power and hand tools, wood turning and detailed project execution. Carl's passion for his craft, patience and gentle sense of humour make for a productive and enjoyable learning experience.
Bruce Moonie
Bruce's journey in the furniture industry began over 30 years ago when he studied to be a teacher at The University of Melbourne, majoring in furniture design. Primarily using timber, he quickly developed a lasting respect for the provenance, beauty and intrinsic properties of the material. Since then Bruce has been making fine furniture, teaching furniture making and working in the specialist timber industry.
In the late 1990's he set up a small business designing and making bespoke furniture, founding a co-operative arts studio in Brunswick for workspace. Bruce taught at Coles School of Woodcraft for 5 years and from 2002-2022 at Melbourne School of Fine Woodworking. He has lectured in education at The University of Melbourne and also currently teaches part time in furniture design at RMIT.
A love of Australian timbers and the thrill of watching novice woodworkers gain skills and be proud of their finished work is at the core of Bruce's tutoring at Melbourne Woodworking Courses.
Richard Lloyd
Richard Lloyd is a skilled restorer and finisher of mid-century furniture based in Northcote, Melbourne.  With a background in automotive refinishing and experience working at Maton Guitars, he has honed his expertise in restoration and conservation.
As a passionate collector of mid-century pieces, Richard started his own business in early 2020, offering a bespoke approach to each project with a focus on high-quality materials and finishes.
He uses the environmentally friendly and VOC/Chemical Free hard-wax oils and waxes for a natural, non-toxic and food safe finish.  Richard takes pride in reviving tired pieces of furniture and preserving them for future generations.  In addition to his furniture restoration work, he is also a talented mosaic artist.
MCM Restoration Man  #mcm.rm
Leslie Jones
Leslie's journey in metal work and engineering led him to join Victoria College of the Arts, Prahran Campus (later Swinburne University) in 1987, where he assumed the role of Design Workshop Manager. In this capacity, he imparted his expertise to students in industrial design, sculpture, and general art, guiding them in model making, welding, fabricating techniques, and the safe utilisation of woodworking machinery. Over the course of nine years as workshop manager, Leslie cultivated his passion and honed his skills in furniture making and sculptural works.
In 1995, Leslie founded Design Form, a business that flourished and expanded over the next 28 years, specializing in bespoke furniture, cabinetmaking, and joinery. The scope of projects undertaken during this period was extensive, encompassing the creation of French Provincial and Art Deco fine furniture, sculptural pieces commissioned by clients, as well as shop fitting that incorporated various multi-media materials.
His skill is evident in the remarkably diverse array of projects he has either personally designed or collaborated on throughout the years, spanning furniture, sculpture, and intricate joinery endeavours.
Leslie is looking forward to exploring design ideas with his students and sharing the joy of creating individual pieces using a variety of techniques and materials.
Chris Maruca
Chris grew up in country Victoria and after finishing school he moved to Melbourne to complete his cabinet making/furniture making apprenticeship. He has been working and gaining experience in various furniture making businesses across Melbourne ever since, as well as completing a wide range of private commission work, from custom shop fit outs to smaller intricate furniture pieces. 
An exciting opportunity unfolded when Chris received an invitation to spend two years studying fine furniture making under the guidance of a renowned Japanese Master. This experience has allowed him to immerse himself in and master the intricacies of hand tools and refine his techniques, adding a unique blend of Japanese and Western style craftsmanship to his repertoire. 
Chris currently works for the reputable furniture company Tide Design in Melbourne and makes handmade wooden puzzle boxes in his home studio during his spare time. 
Chris is excited about sharing his knowledge and helping others bring their ideas to life, reflecting a commitment to fostering creativity within the woodworking community.
Chris's instagram @maruca_furniture 
Chris's Website www.marucafurniture.com
Louen Pinpin-Menez
After completing a Bachelors Degree in Fine Furniture Making & Design in France, Louen worked in wooden boat building to extend his knowledge.  Upon his arrival in Australia, he continued working on wooden boat building, honing his skills and craftsmanship.
During this period he was also working on his own creations.  In 2022, he entered a pair of beautiful boxes he had made, into the Australian Wood Review Maker of the Year Awards for which he won the Bowls & Boxes Category.  Take a look at it here –  https://www.woodreview.com.au/photocompentry/soil-and-sea.
Check out Louen's Website Lapin Furniture
Remy Tramoy
Rémy has lived and breathed his craft since 1998. He uses both traditional and modern woodcrafting techniques to create timeless, modern pieces that will truly last a lifetime.
As a member of the ancient French guild, Les Compagnons du Devoir, Remy undertook his 10-year apprenticeship as he journeyed across France, Switzerland and Germany. Since arriving in Australia, Remy has continued to cultivate his contemporary, organic and enduring style, inspired by the place he now calls home—the beautiful Dandenong Ranges. He creates his own designs as well as client commissions.
Remy was a finalist in the Australian Wood Review – Maker of the Year in both 2020 and 2021.
Australian Wood Review – Finalist in Maker of the Year 2020 – Furniture category
https://www.woodreview.com.au/news/the-shortlists-maker-of-the-year-2020
https://www.woodreview.com.au/photocompentry/becoming
Australian Wood Review – Finalist in Maker of the Year 2021 – Tables, Chairs, Desks category
https://www.woodreview.com.au/moty2021/tables-chairs-desks-2021
https://www.woodreview.com.au/photocompentry/alive
Remy taught fine furniture making at the Melbourne School of Fine Woodworking from 2013-2022 and commenced teaching at Melbourne Woodworking Courses in 2023.
He is a generous and subtle instructor and will help you to feel both capable and challenged at the same time.
Laura Inguaggiato
After graduating with a Bachelor's Degree in Cabinet Making in France, Laura began her career at Atelier Lison de Caunes in Paris. Here she learned the art of Straw Marquetry, a craft that's opened the possibility of artistic expression in interior design.
Since arriving in Melbourne she has worked for Adam Goodrum and Arthur Seigneur on Straw Marquetry and project monitoring, blending the frontier between art and craft and mixing traditional high end skills with new technology.
Laura regularly works on her own projects, experimenting with patterns and effects on a diverse range of homewear objects. Her past work has been exhibited during Paris Design Week and she is published in Australian Wood Review.
Check out Laura's Instagram @laura-inguaggiato
Check out Laura's Website Lapin Furniture
Passion for woodworking
We are dedicated to promoting and preserving the art of woodworking and its rich traditions, and are committed to sharing our love and knowledge of the craft with others.
Empowerment through education
We believe that everyone has the potential to learn and master woodworking, and our objective is to always provide a supportive and inclusive learning environment that empowers individuals to reach their full potential.
Quality instruction
We are committed to delivering high-quality instruction. All of our instructors are highly experienced and have many years in the industry. They all enjoy the process of passing on their skills to others.
Community building
We believe that woodworking is a social and collaborative activity and we are all about nurturing a community of learners and practitioners who support and encourage one another.
Respect for the environment
We recognise the importance of sustainability and environmental stewardship in woodworking and we are committed to promoting responsible practices that respect and protect the environment.
Our history in the industry
Melbourne Woodworking Courses was started by Rob & Kym Fabris in early 2023. They are not new to the industry with both having had many years experience running a woodworking school for others. Rob was the Operations Manager for 14 years and a weekly and short course tutor for many years and Kym was the Administrator for 12 years. It was time for a fresh start and so Melbourne Woodworking Courses was born.
Need more information? Get in contact!